CLICK HERE TO JOIN ZOOM ON FEBRUARY 28TH!
Join us on February 28th for 45 minutes with HR professional and author Rod Bourn followed by a 15 minute Q&A!  Rod will touch on various topics for university students seeking internships and jobs, professional leadership skills, time-management tips, and more!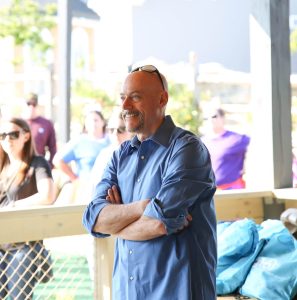 With a passion to improve people and organizations, Rod has worked in organizational development and leadership programming positions in a variety of industries including manufacturing, services, and higher education.
Rod is the founder and Lead Ninja of Down, Set, Lead; a strategic consulting group focused on helping organizations grow their business and people through coaching, training and mentoring programs, and leadership retreats. He is also the Project Director for Goldman Sachs' 10,000 Small Businesses program in Baltimore.
Rod's career started in HR and included progressive positions at London Fog, USF&G Insurance, Renaissance Hotels, and Rite Aid.  He then spent 14 years as the Coordinator of Organizational and Professional Development at Harford Community College, where he designed, coordinated and delivered professional training; planned and facilitated professional conferences; and ran two professional associations: the Susquehanna Professional Association of Nonprofits (SPAN) and the Susquehanna Human Resource Association (SHRA).
In the community Rod serves as a mentor and coach; he is the former President and a current board member of the MA & PA Heritage Trail Foundation; and in 2008 founded Anna's Guys, a collection of men who work with abused and sheltered children.  He also founded and oversees the annual Catch a Pig 5k, having raising over $75k for the local Boys & Girls Clubs.
He earned his Bachelor's degree in Business Administration at Towson University, and a Masters of Organizational Development from Johns Hopkins University.  He was voted commencement speaker for his Harford Leadership Academy class.
Rod is a native Marylander and enjoys various outdoor activities, traveling and gastronomic pursuits.  He now lives in Baltimore and tries to keep pace with his wife Kim, a psychotherapist, and their two kids.